One of the key reasons our incinerators are recognized as being 'probably the best ' on the world market, is the use of our market leading and trusted low thermal mass monolithic concrete lining which is used in all of our models. ​​​ All models in the Cyclone Range are supplied with a secondary chamber, ensuring they fully conform to many legislative bodies around the world.​​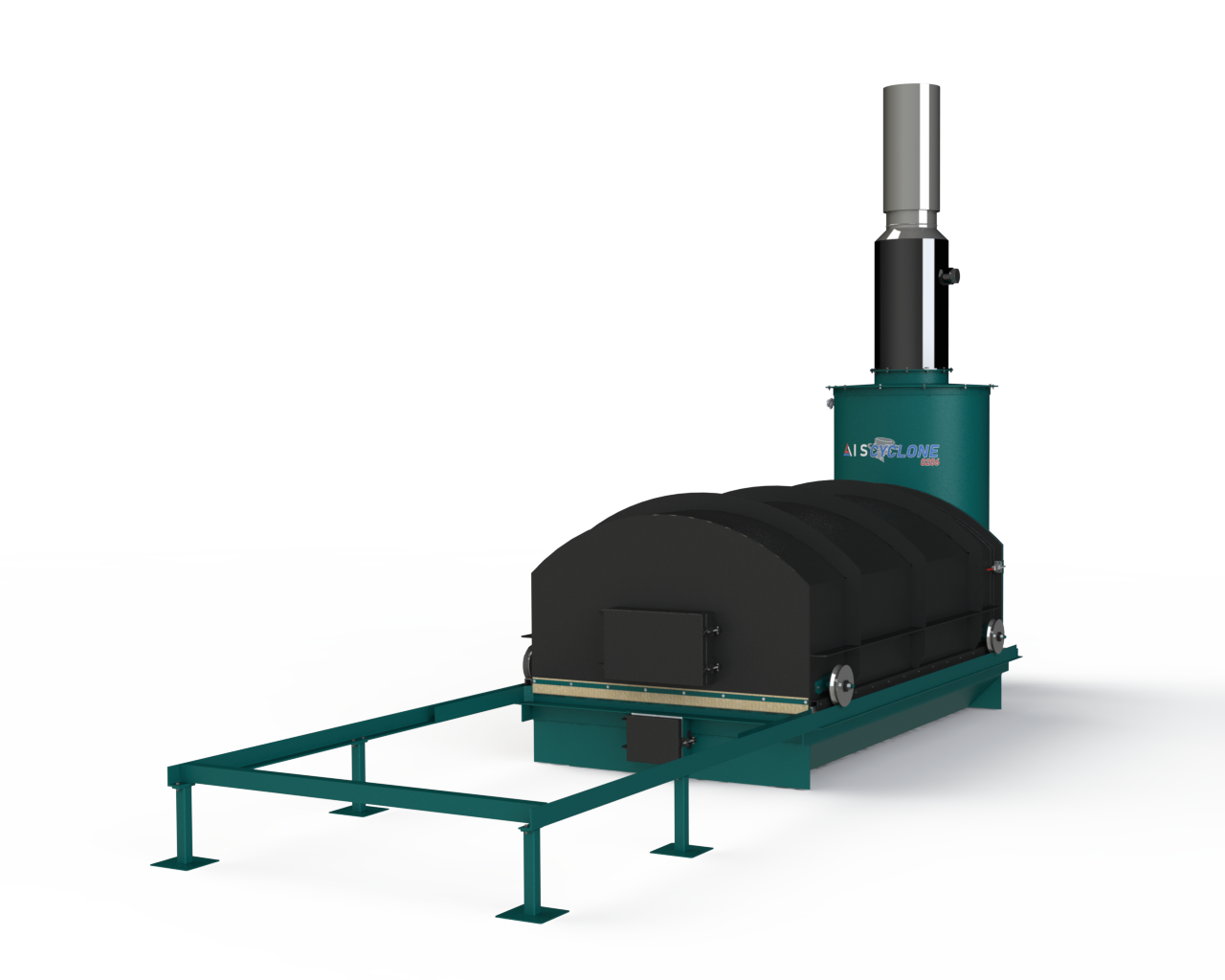 Image shown is of the AIS 0206 Cyclone model with optional Inspection Door​
AIS 0206 Cyclone Information:
With a large load capacity of up to 1300kg / 2867 lbs and an hourly burn rate of up to 

68kg / 150 1bs, the AIS 0206 Cyclone incinerator is suited for the bio-secure disposal of 

a wide range of larger animal carcasses generated across the agricultural sector 

including but not limited to; Dairy / Beef Cattle, Pigs & Sows, Equine Cremation. 

​

A curved lid that is opened via a manual sliding action along a frame, gives full access 

to a large main burning chamber. 

​

The Bed of the AIS 0206 is low down and easy to load carcasses into via skid loaders 

and tractor buckets. The low height of the bed also makes it easy for de-

ashing

.

​

PLC timer controls with automatic burner shut off function and fast ignition burners. 

One burner is in the main chamber, one additional burner is in the secondary chamber.

​

Can be loaded whilst in operation maximizing the inherent thermal efficiency of our 

monolithic concrete lining, keeping running costs low. 

​

Optional Extra Features include; Stack Extension / Ash Rake / Inspection Door / USB 

Data Logger/ Heat Exchanger / 

Control Panel screen size increase

 / 

Service Kits.

​

Be Assured of a Quality Product & Quality Service with AIS:
3 Year Warranty as Standard:
Specifications
Be Assured of a Quality Product & Quality Service with AIS:
Each machine is hand-built by our team of skilled technicians in the UK and U.S. ​​​
The reason your incinerator will last is due to the type of lining used. Our trusted monolithic casting system ensures maximum strength, reliability and a longer machine life. We are always happy to explain why our technology is far better than any other manufacturers product on the world market. Talk to us to find out more and make your own mind up.​​​
Behind the AIS brand is a team of experts who are always on hand to discuss any questions that you may have about incineration, so you can be assured of great service and a great product.​​​
But it goes beyond that, we stay with you for the life of the machine, always on hand if or when you need us. It's a people thing, it's an AIS thing.​
3 Year Warranty as Standard:
Specifications